See offer insert below
Arthaland, the leading sustainable real estate developer in the Philippines, launches its public offering of up to Php3 billion ASEAN Green Bonds, to be issued in two maturities: 5 years at 8.0% pa and 7 years at 8.7557% pa. ASEAN Green Bonds are scheduled to be issued on December 22, 2022 and listed on the Philippine Dealing and Exchange. The offering is the second tranche of Arthaland's Php 6 billion ASEAN Green Bond program, for which Arthaland created the first real estate company green framework in the Philippines.
Arthaland's commitment to sustainability
The offering is consistent with Arthaland's unparalleled commitment to sustainability. Arthaland is the only developer with a development portfolio consisting entirely of sustainable projects certified to multiple global and national green building standards.
Arthaland was the first real estate developer in Asia and the Philippines' first signatory to the World Green Building Council's Net Zero Carbon Building Commitment. As a signatory to this program, Arthaland has officially committed to decarbonizing its portfolio by 2030. It has thus put itself and the Philippines at the forefront of the global initiative for climate protection.
Arthaland Century Pacific Tower (BGC, Taguig). The first Net Zero Carbon certified building in the world.
Arthaland's flagship office project, the Arthaland Century Pacific Tower, has been recognized as the world's first net-zero carbon project and certified under the IFC's EDGE Green Building Program.
"Climate change is omnipresent and does not discriminate. Therefore, everyone should participate in the solution. Our ASEAN Green Bonds enable people to participate in climate solutions to make the world greener." Jaime C. González, Vice Chairman and President of Arthaland
Important Milestones
This year, Arthaland celebrated several milestones on its journey to dramatically expand its portfolio of high quality, sustainable projects in key urban areas in Metro Manila, Cebu and Laguna.
Handover of two of Arthaland's largest projects
Cebu Exchange and Savya Financial Center, two of Arthaland's largest multi-certified sustainable projects, will be operational in 2022. Both projects have successfully initiated handover to their buyers according to pre-pandemic handover plans.
Start of new housing projects
Arthaland launched two new housing projects in the second half of 2022:
Una Apartments is the first of six mid-rise residential towers in Sevina Park, an eight-acre master plan sustainable community in Binan, Laguna.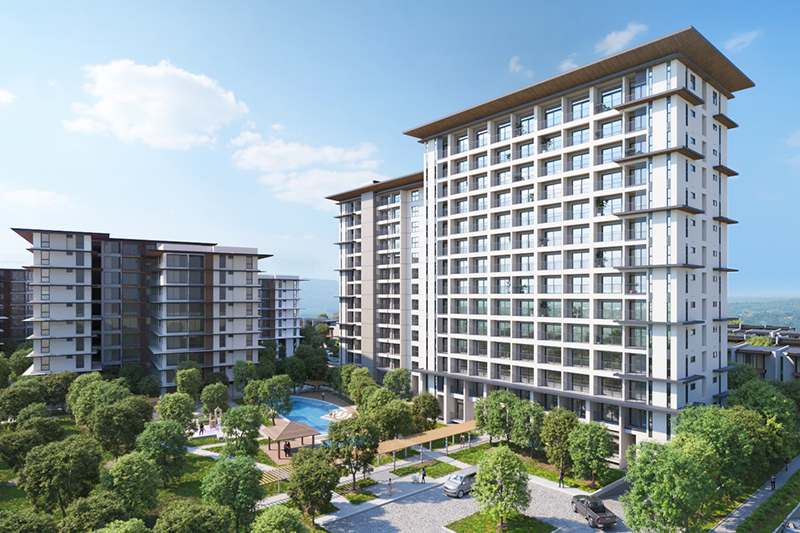 Una Apartments (Biñan, Laguna). On the way to becoming the first multi-certified sustainable mid-market development in the Philippines.
Eluria, Arthaland's multi-certified luxury condominium project in Legazpi Village, Makati, offers spacious limited edition designer homes characterized by unmatched quality, attention to detail and exceptional white-glove service.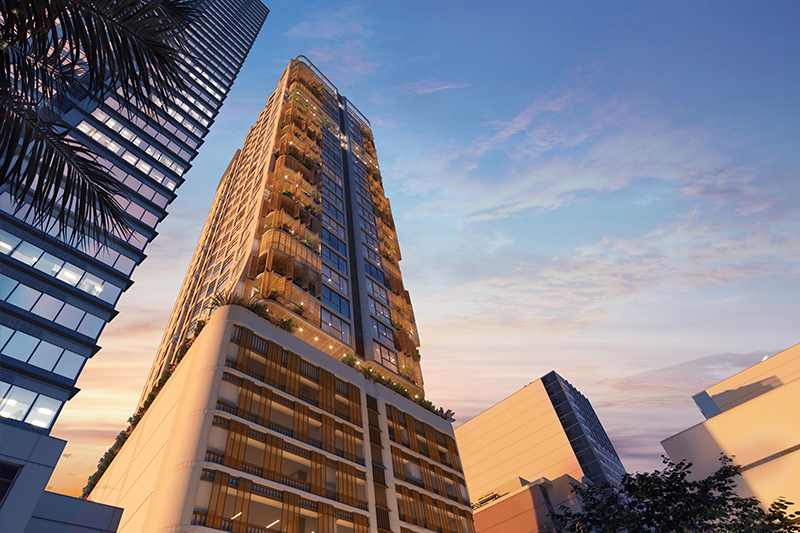 Eluria (Legazpi village). Planned to be the most exclusive residential address in Makati, pushing the boundaries of sustainable living.
The launch of these new residential projects complements ongoing residential projects including Sevina Park Villas, a sparsely populated community within the Sevina Park estate, and Lucima, the first prime sustainable condominium project at Cebu Business Park, Cebu. Against this background, Arthaland has the prospect of achieving approximately five-fold growth in its development portfolio over the next few years.
Lucima (Cebu City). Ready to become the country's first quadruple-certified sustainable high-rise residential building in the southern Philippines.
Use of Proceeds for Offering
Arthaland's ASEAN Green Bond offering comes as Arthaland prepares for the next phase in its story. A significant portion of the proceeds from the Offering will fund Arthaland's necessary investments in new certified sustainable housing projects, giving Arthaland the flexibility to develop and launch within the next 10 years or more.
The intended use of the proceeds from the Offering is in line with Arthaland's Green Framework, which forms the basis for the issuance of green bonds and loans and allows the Company to use the proceeds to fund a portfolio of eligible green building projects.
PhilRatings assigns an issue rating of PRS Aa with a stable outlook for this offer. Debts rated PRS Aa are of high quality and subject to very low credit risk. The issuer's ability to meet its financial obligations under the obligation is very strong. A stable outlook is assigned when a rating is expected to remain unchanged or unchanged for the next 12 months.
"With the construction sector responsible for nearly 40% of annual global CO2 emissions, our commitment to sustainability stems from a desire to provide future generations with a better future. There is still work to be done and we hope that with the support of regulators and the financial sector, more institutions will be motivated to issue green financial instruments." Jaime C. González, Vice Chairman and President of Arthaland.
Spotlight is BusinessWorld's sponsored space that enables advertisers to amplify their brand and engage with BusinessWorld's audience by allowing them to publish their stories directly on BusinessWorld's website. For more information, email online@bworldonline.com.
Join us on Viber for more updates from BusinessWorld: