Lawyers are undoubtedly among the busiest professionals. You have one of the busiest daily routines. Because of this, it is always a challenge for them to meet certain requirements of the profession, particularly the Mandatory Continuing Legal Education (MCLE) which requires them to complete 36 hours of continuing legal education activities per compliance period (usually all three years) to complete. .
Fortunately, the Supreme Court has begun allowing MCLE compliance online — authorized before the onset of the ongoing pandemic and originally designed to allow elderly, otherwise disabled, and expatriate members of the Integrated Bar of the Philippines to comply with Attorney Case #850, keeping them up to date with the law, professional ethics and improved standards of practice.
In April 2022, the Supreme Court even extended the deadline for MCLE compliance for the current (seventh) compliance period, which now runs from April 15, 2019 to April 14, 2023. The move was due to the restrictions and other setbacks caused by the ongoing pandemic.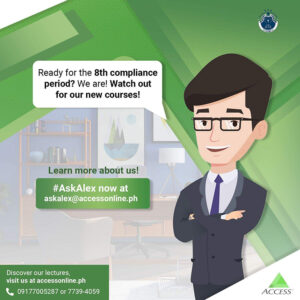 Altered perceptions about MCLE
Additionally, institutions that facilitate MCLE courses have also become more flexible and creative in making completing the requirement a breeze. Ahead of these centers is ACCESS MCLE, the pioneer and main proponent of online MCLE offerings in the country.
"It has always been our goal to change how lawyers view MCLE," said Atty, co-founder of ACCESS MCLE. mom Louella M Aranas. "We want them to see MCLE as an opportunity to learn something new, so ACCESS MCLE curates its courses to cover topics that aren't typically covered but are undoubtedly interesting. We want to challenge our learners' minds and open up enriching conversations."
As the leader in its field, ACCESS MCLE offers two options for learners enrolling in MCLE – Online On-Demand and Flexible-Synchronous MCLE.
On Demand vs. Flexi Sync
The revolutionary online on-demand format allows learners to take pre-recorded lectures at the time that is most convenient for them. ACCESS MCLE has ensured that all on-demand lectures are presented in high-quality materials with clear and crisp videos and other learning aids for better recognition and greater effectiveness.
On the other hand, Flexi-Synch or Flexi-Synch MCLE makes it easier to set up an online classroom, which is more convenient especially for learners with very hectic schedules. This is because courses are offered on specific dates monthly and throughout the year. So if a learner misses a session, he/she simply needs to log in on the specified day and time in the following month(s).
"We currently have a good balance between on-demand and flexi-synch for ACCESS MCLE learners. I've noticed that many practitioners sign up for Flexi-Synch because they are unfamiliar with the mechanics of on-demand learning, which is really like watching a movie or series on Netflix. Log in to ACCESS and register, then choose from our wide range of courses," Atty. said Aranas.
Thus, participating in on-demand MCLE at ACCESS MCLE could be integrated into a learner's daily habits. "That's why we recommend ACCESS On-Demand MCLE to busy learners as there is no schedule, time or place for it. Convenience is the only consideration. In addition, our on-demand courses are not only educational, but also highly interactive. The topics are unique and the lecturers are the best subject matter experts," says Atty. Aranas advised.
To learn more about ACCESS MCLE and its programs, visit
Spotlight is BusinessWorld's sponsored space that enables advertisers to amplify their brand and engage with BusinessWorld's audience by allowing them to publish their stories directly on the BusinessWorld website. For more information, email online@bworldonline.com.
Join us on Viber for more updates from BusinessWorld: